Joseph Lo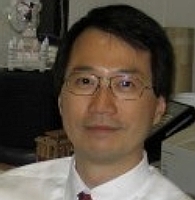 Associate Research Professor (primary appt: Medical Physics Grad Program, Radiology)
Contact Information:
Office Location: Ravin Advanced Imaging Labs (RAI Labs) Hock Plaza
Email Address:

Web Page:
Education:
| | | |
| --- | --- | --- |
| Ph.D. | Duke University | 1993 |
| B.S.E.E. | Duke University | 1988 |
Research Interests:
The lab focuses on the diagnosis and treatment of cancer using advanced imaging techniques. There are 3 main projects: breast tomosynthesis, computer aided diagnosis, and improved treatment planning for radiation therapy. First, Dr. Lo leads a team from the Ravin Advanced Imaging Laboratories (see website above) in collaboration with Siemens Healthcare to develop breast tomosynthesis. Tomosynthesis is a form of limited-angle tomography using a modified digital mammography system and can acquire a 3D image quickly, easily, and at the same dose as a conventional mammogram. Tomosynthesis will improve sensitivity of breast cancer diagnosis by helping radiologists to detect subtle lesions which would otherwise be obscured. In addition, tomosynthesis will also improve specificity since radiologists can better visualize false alarms and thus avoid unnecessary follow-up imaging studies and surgical procedures. For these reasons, tomosynthesis is the most exciting recent development in breast imaging, and the only technology that can actually replace mammography in the near future. Duke is now conducting clinical trials using the first ever Siemens breast tomosynthesis prototype. Second, for over a decade, we have been a leader in computer aided diagnosis (CAD), which is an interdisciplinary field combining elements of medical physics, engineering, statistics, and bioinformatics. We have developed automated detection algorithms which use computer vision techniques to localize suspicious mammographic lesions. We have also designed predictive models which use machine learning and statistical analysis in order to classify mammograms or sonograms as benign versus malignant. During these studies, we compiled one of the largest multi-institution breast cancer databases with approximately 5000 cases. Finally, we are extending CAD techniques from radiology toward the problem of intensity modulated radiation therapy (IMRT), specifically to improve treatment planning for prostate and head & neck cancer. Our goal is to improve the efficiency and safety of treatment plans.
Specialties:
Medical Imaging
Cancer diagnostics and therapy
Courses Taught:
BIMP 301B.16 - RESEARCH IN BIMP
BIMP 301B.16-S - RESEARCH IN BIMP
MEDPHY 751.01 - SEMINARS IN MEDICAL PHYSICS
JA Baker, JY Lo, Breast tomosynthesis: state-of-the-art and review of the literature., Academic radiology, vol 18 no. 10 (2011), pp. 1298-310 [doi].
V Chanyavanich, SK Das, WR Lee, JY Lo, Knowledge-based IMRT treatment planning for prostate cancer., Medical physics, vol 38 no. 5 (2011), pp. 2515-22 [abs].
MA Mazurowski, JY Lo, BP Harrawood, GD Tourassi, Mutual information-based template matching scheme for detection of breast masses: from mammography to digital breast tomosynthesis., Journal of biomedical informatics, vol 44 no. 5 (2011), pp. 815-23 [doi] [abs].
S Singh, J Maxwell, JA Baker, JL Nicholas, JY Lo, Computer-aided classification of breast masses: performance and interobserver variability of expert radiologists versus residents., Radiology, vol 258 no. 1 (2011), pp. 73-80 [doi] [abs].
CM Shafer, E Samei, JY Lo, The quantitative potential for breast tomosynthesis imaging., Medical physics, vol 37 no. 3 (2010), pp. 1004-16 [abs].
AS Chawla, JY Lo, JA Baker, E Samei, Optimized image acquisition for breast tomosynthesis in projection and reconstruction space., Medical physics, vol 36 no. 11 (2009), pp. 4859-69 [abs].
JL Jesneck, S Mukherjee, Z Yurkovetsky, M Clyde, JR Marks, AE Lokshin, JY Lo, Do serum biomarkers really measure breast cancer?, BMC cancer, vol 9 (2009), pp. 164 [doi] [abs].
S Singh, GD Tourassi, JA Baker, E Samei, JY Lo, Automated breast mass detection in 3D reconstructed tomosynthesis volumes: a featureless approach., Medical physics, vol 35 no. 8 (2008), pp. 3626-36 [abs].
CE Floyd, AJ Kapadia, JE Bender, AC Sharma, JQ Xia, BP Harrawood, GD Tourassi, JY Lo, AS Crowell, MR Kiser, CR Howell, Neutron-stimulated emission computed tomography of a multi-element phantom., Physics in medicine and biology, England, vol 53 no. 9 (2008), pp. 2313-26 [abs].
AS Chawla, E Samei, RS Saunders, JY Lo, JA Baker, A mathematical model platform for optimizing a multiprojection breast imaging system., Medical physics, United States, vol 35 no. 4 (2008), pp. 1337-45 [abs].
A Karellas, JY Lo, CG Orton, Point/Counterpoint. Cone beam x-ray CT will be superior to digital x-ray tomosynthesis in imaging the breast and delineating cancer., Medical physics, United States, vol 35 no. 2 (2008), pp. 409-11.
JL Jesneck, LW Nolte, JA Baker, CE Floyd, JY Lo, Optimized approach to decision fusion of heterogeneous data for breast cancer diagnosis., Medical physics, United States, vol 33 no. 8 (2006), pp. 2945-54 [abs].
AO Bilska-Wolak, CE Floyd, JY Lo, JA Baker, Computer aid for decision to biopsy breast masses on mammography: validation on new cases., Academic radiology, United States, vol 12 no. 6 (2005), pp. 671-80 [abs].
JA Baker, EL Rosen, MM Crockett, JY Lo, Accuracy of segmentation of a commercial computer-aided detection system for mammography., Radiology, United States, vol 235 no. 2 (2005), pp. 385-90 [abs].
RS Saunders, E Samei, JL Jesneck, JY Lo, Physical characterization of a prototype selenium-based full field digital mammography detector., Medical physics, United States, vol 32 no. 2 (2005), pp. 588-99 [abs].
MK Markey, JY Lo, GD Tourassi, CE Floyd, Self-organizing map for cluster analysis of a breast cancer database., Artificial intelligence in medicine, Netherlands, vol 27 no. 2 (2003), pp. 113-27 [abs].
MA Gavrielides, JY Lo, CE Floyd, Parameter optimization of a computer-aided diagnosis scheme for the segmentation of microcalcification clusters in mammograms., Medical physics, United States, vol 29 no. 4 (2002), pp. 475-83 [abs].
JY Lo, MK Markey, JA Baker, CE Floyd, Cross-institutional evaluation of BI-RADS predictive model for mammographic diagnosis of breast cancer., AJR. American journal of roentgenology, United States, vol 178 no. 2 (2002), pp. 457-63 [abs].